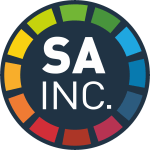 SA INC is about changing conversations – from the dinner table to the shebeen, from dusty street corners to gym cafeterias. It tells stories about South Africa's most progressive, innovative and switched-on businesses that are placing people at the centre of their vision and have committed to the ethos of profit-with-purpose and the pursuit of inclusive, sustainable business growth.
It aims to shift conversations away from the doom and gloom of the mainstream media and share some of the positive real news that doesn't reach the headlines.
Be inspired as we continue to share these stories throughout 2022 and into 2023, celebrating all that is good in South Africa.
1,100,000
Online videos viewed
7,400,000
Online videos viewed
7,600,000
Online videos viewed
Seasons 1, 2 & 3 TV Potential Audience
15,000,000
SA Community TV
489,000,000
African Channels
| Premium Channels (also on DSTV) | Potential Audience | Territories |
| --- | --- | --- |
| Business Day TV | 10 000 000 | 9 Countries in Southern Africa |
| eNCA | 1 800 000 | South Africa |
| SABC2 | 26 000 000 | South Africa |
| e.tv | 15 500 000 | South Africa |
| CNBC Africa | 16 000 000 | South Africa |
| Local Channels | Potential Audience | Terrotories |
| --- | --- | --- |
| 1 KZN | 2 000 000 | KZN |
| Bay TV | 1 500 000 | Port Elizabeth |
| Beleef Northern Cape TV | 44 000 | Northern Cape |
| BRICS TV | 13 000 000 | Sputh Africa |
| Cape Town TV | 2 700 000 | Cape Town |
| Durban TV | 20 000 | KZN |
| GAU TV | 2 500 000 | Gauteng |
| Islamic TV | 1 000 000 | South Africa |
| Khaltcha TV | 20 000 | Khayelitsha |
| Life Christian Broadcasting Network | 5 000 | South Africa, Global |
| Limpopo TV | 2 500 000 | Limpopo |
| Mpumalanga TV | 30 000 | Mpumalanga |
| North West TV | 20 000 | Community |
| Promedia - Rank TV | 2 000 000 (Daily) | 7 Provinces |
| Rising Sun TV | 500 000 | Mpumalanga |
| Social TV | 15 000 | Online only |
| Soweto TV | 2 500 000 | Soweto |
| Tshwane TV | 2 500 000 | Tshwane |
| Trinity Broadcasting Network | 12 000 000 | South Africa |
SA INC AFRICA DISTRIBUTION
| Channels | Potential Audience | Territories |
| --- | --- | --- |
| Africa Channel USA | 10 000 000 | North America (Canada & USA) |
| AIT | 119 000 000 | West Africa |
| AMC TV | 4 000 000 | Nigeria |
| Azam TV | 1 500 000 | East and Central Africa |
| Benie TV | 55 000 000 | Central and West Africa |
| Business Television Africa | 3 000 000 | West Africa |
| CHIPATA Television | 500 000 | Zambia |
| Cignal TV | 1 200 000 | Philippines (African diaspora) |
| eBotswana | 500 000 | Botswana |
| EBRU TV | 10 500 000 | Kenya |
| Liberia Broadcasting System | 900 000 | Liberia |
| Luntha TV | 3 000 000 | Malawi |
| Multimesh | 40 000 000 | Nigeria, West Africa |
| Multi TV World | 14 000 000 | West Africa |
| Mauritius Broadcasting Corporation | 200 000 | Mauritius |
| ORTM | 8 000 000 | West Africa |
| RTS Senegal | 13 000 000 | Senegal |
| Sayare TV | 2 000 000 | Kenya |
| Star TV | 28 000 000 | Tanzania |
| Tumaini TV | 2 000 000 | Tanzania |
| TV3 | 12 000 000 | Ghana |
| TV10 | 2 000 000 | Rwanda |
| TVC | 4 500 000 | West and Central Africa |
| TV Zimbo | 6 000 000 | Angola and West Africa |
| Urban TV | 817 000 | Uganda |
| Voxafrica | 51 500 000 | UK, Europe, USA and Africa |
| WTV | 5 000 000 | Kenya |
SOUTH AFRICAN RADIO DISTRIBUTION
Province
Station
Approximate Listenership
Western Cape
CCFM 107.5
Eden FM
UCT 104.5 FM
141 000
154000
2 000
Eastern Cape
Bay FM 107.9
Link FM
Rhodes Music Radio
41 500
50 500
1 000
Free State
Kovsie FM (UFS)
5 500
Gauteng
Eden AM
Impact Radio 103 FM
Rainbow 90.7 FM
1 000
19 000
36 000
Kwa-Zulu Natal
Durban Youth Radio
7 500
Mpumalanga
Radio Laeveld 100.5 FM
15 000