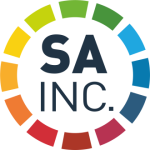 SA INC is about changing conversations – from the dinner table to the shebeen, from dusty street corners to gym cafeterias. It's about shaking off the doom and gloom of mainstream media and sharing the positive real news that doesn't reach the headlines. SA INC tells stories about South Africa's most progressive, innovative and switched-on organisations, that are placing people at the centre of their vision and have committed to the ethos of profit-with-purpose and the pursuit of inclusive, sustainable business growth. Be inspired as we share these stories throughout 2022 and into 2023, celebrating all that is good in South Africa.
The third season of SA INC is currently being broadcast on a number of local, national and international TV networks.
Follow us on Facebook for more information.
SA INC – We're not just telling stories, we're changing lives. 
Accenture is strategically investing in youth skills and enterprise development.
With growing poverty, rising unemployment and persistent inequality severely constraining our prospects of economic recovery, South Africa needs collaborative solutions to help shift the tide in a different direction. With the explosion of cloud-based technology solutions, there lies a significant opportunity for South Africa to build the capabilities of its youth, unlocking the potential of this lucrative industry at both a local and global level and providing much-needed skills to support a trajectory of strengthened economic growth.
However, it requires businesses to step up and harness this opportunity. It requires visionary leadership to take the enormous potential that young people have in this country and shape and mould it into something tangible where we can not only benefit from extensive quality jobs but also take our place firmly as leaders in a digital world.
Accenture has been at the forefront of recognising the potential of a skilled South African workforce. Collaborating with grassroots organisations, strategic partners and enterprise development specialists, the company is strategically investing in the type of skills development that leads to actual jobs and empowers and enables individuals and small businesses to thrive.
#SAINC went to explore these inspiring initiatives, from the Langa-based NGO, Quirky30, which teaches coding to township youth, to the women-led enterprises scaling innovative tech solutions and the trailblazing Skills to Succeed Academy offering an interactive, online training program that helps learners to build the skills and confidence they need to make smart career choices and find employment and success.
SA INC - Season 3 - Accenture (11 minutes)
SA INC - Season 3 - Accenture (5 Minutes)
SA INC - Season 3 - Accenture (1 minute)
Being a community-minded organisation at its roots and a committed corporate citizen, AVBOB addresses gender-based violence and helps small businesses affected by looting.
 Social Entrepreneurs are changing the fabric of our society, delivering business services designed to solve social problems in ways that deliver reasonable profits and community impact concurrently.
 Shape Café is one such social enterprise operating in Sebokeng township and owned by Itumeleng Hlapane and his wife. Here, coffee and juice are served alongside marketing, accounting and legal advice in a shared work-space environment that provides a nurturing base for business development in the community.
 But in the wake of the COVID-19 pandemic, when South Africa was faced with devasting looting, Shape Café was sadly not immune.
 Enter AVBOB, Africa's Largest Mutual Assurance Society. Being a community-minded organisation at its roots, the company decided to step in and help small businesses affected by this looting. Shape Café was one of these fortunate beneficiaries and, together with the help of a little love and support from the community it serves, it was back in operation in no time at all.
 As a committed corporate citizen, AVBOB takes its role in society very seriously and addressing gender-based violence is another cause close to its heart and purpose. The TEARS Foundation was started by Mara Glennie who was determined to transition from being a survivor to becoming a support service for women in need. With her Help-At-Your-Fingertips support line, sponsored by AVBOB, over 99,000 victims of gender-based violence have been assisted to date and her relationship with this aligned corporate partner is enabling her to live her life in a purposeful and fulfilling way.
 #SAINC visited these inspiring stakeholders to see first-hand what they have achieved, despite the adversity in their paths, with a little helping hand from AVBOB.
SA INC - Season 3 - AVBOB (11 minutes)
SA INC - Season 3 - AVBOB (5 minutes)
SA INC - Season 3 - AVBOB (Itumeleng) (1 minute)
With an emphasis on incubating social entrepreneurs operating in rural landscapes, Barloworld's Mbewu program drives growth, scalability and sustainable revenue models of predominantly women-owned enterprises.
 South Africa is confronted with extremely high unemployment rates and people who live in rural areas are even more marginalised and underserved. Social enterprises that can create jobs where few prospects exist can provide a unique opportunity to shift the socio-economic outlook of rural environments by delivering skills and creating a value chain that supports more resilient and self-sufficient communities.
 Barloworld's Mbewu program is designed to do just that. With an emphasis on incubating social entrepreneurs operating in rural landscapes, the program places a significant emphasis on both environmental stewardship and social impact whilst at the same time driving growth, scalability and sustainable revenue models of predominantly women-owned enterprises.
 Lerato Motale started Zekhala Charcoal to create a business that would not only serve her needs but also create opportunities where previously there were none. Black Wattle is a water-thirsty invasive alien plant species that causes significant issues for the ecosystems in which it is found.  Clearing it provides the perfect resources for the high-grade charcoal Lerato produces, the quality of which speaks for itself as her business continues to expand and create jobs as she works to keep up with the ever-growing demand.
 From trees to bees, enterprises that make a positive impact on people and the planet are making their mark. Bokomoso Impact Investment, owned by Lesego Holzapfel, is no exception. With over 600 beehives manufactured and distributed, young community members are reaping the dividends of bringing the honey from their hives to the rural facility where it is processed into its beautiful craft packaging for sale across the country and further afield.
 Mbewu means 'seed' and Barloworld's program focuses on holistically nurturing these seeds to grow and flourish through incubation, mentoring and coaching, grants and loans as well as emotional capacity building and support needed to create the optimal ground for long-term impact and success.
 #SAINC got to meet some of these remarkable women and see how their business operates on the ground.
SA INC - Season 3 - Barloworld (11 minutes)
SA INC - Season 3 - Barloworld (5 minutes)
SA INC - Season 3 - Barloworld (Lesego) (1 minute)
Bonitas embraces the philosophy of making a positive difference in people's lives with innovation, agility, accessibility and inclusivity.
 Equal access to quality healthcare continues to be a challenge for developing countries. And with a significantly overburdened state healthcare system, affordable medical aid provides a necessary alternative and peace of mind for South African families.
 Bonitas Medical Fund started in the early 80s as a medical aid for black civil servants. Since then, the company's focus on innovation and agility has seen it grow into an open medical scheme with an emphasis on inclusivity and accessibility for all South Africans.
 #SAINC went off to meet an array of satisfied customers, from long-standing and family legacy members to young up-and-coming professionals. Jacob Tshabala became a member back when he first started working for a state-owned enterprise. When his wife was diagnosed with bipolar disorder, Bonitas was there and their continued support of her chronic condition has ensured the couple's healthy and happy lifestyle well into their retirement.
 Busisiwe Ngobese recounts her memory of a childhood allergy that resulted in her being rushed to the hospital. She remembers vividly the fear but also how safe and secure she felt knowing that she was in the right hands, so much so that years later, when her employer offered her a variety of medical schemes to join, Bonitas was the obvious choice for Busi who now relies on the scheme for the peace of mind she needs regarding her family's health needs.
 Bonitas also realises that the youth consume healthcare in a very different way and has introduced new and innovative products, including an app and digital medical consultations to remain current and deliver a relevant value-based service to this growing market.
 This innovation further extends to the way households consume medical care, particularly in a post-pandemic era. With this in mind, Bonitas has partnered with Quro, a digital health company pioneering premium healthcare solutions which include their flagship technology-enabled Hospital at Home that provides continuous vital sign monitoring together with virtual and in-person visits to bring hospital-level care to patients in their homes.
 But inclusivity at Bonitas is not only about access to healthcare. It extends to growing small businesses within the value chain of the scheme and empowering entrepreneurs like Baisi Mosoane-Pambo to grow her business whilst passionately educating people with knowledge on healthcare products to best suit their needs and budget.
 Bonitas embraces the philosophy of making a positive difference in people's lives and it is clear from the spectrum of stakeholders we met that they are truly doing just that.
SA INC - Season 3 - Bonitas (11 minutes)
SA INC - Season 3 - Bonitas (5 minutes)
SA INC - Season 3 - Bonitas (Quro) (1 minute)
ENGEN EMPOWERS YOUTH WITH OPPORTUNITIES
Quality Maths and Science education are critical in empowering youth with the tools they need for gainful employment and socio-economic progress. But with the persistent prevalence of under-resourced schools and challenging living conditions, this is not always an easy undertaking.
 PARTNERSHIPS TO DRIVE MATHS & SCIENCE EXCELLENCE
South Africa has many big and vibrant townships and, within them, there are many squatter camps. These small and crowded living quarters mean studying is a significant challenge for youth who live there, with dire consequences on their learning potential and outcomes.
 It is addressing these kinds of conditions that is a fundamental driver of the Engen Maths and Science Programme. The programme operates in locations around South Africa and has been providing free supplementary Maths, Science and English tuition to underprivileged learners for over 30 years.
 By training and empowering locally based educators to provide this extended learning support, these passionate and committed teachers are progressing not only the academic performance of top students but also empowering a vast array of learners with significant life skills and expanding the prospects of many who might have ordinarily been left behind.
 #SAINC visited participating schools in KZN and the Western Cape to learn first-hand from the youth and the educators about the nuts and bolts of the programme and the impact it has had on both learning outcomes and life choices. From the pursuit of 8 distinctions to realizing the need to be the change that they want to see in their communities, the learning, motivation and support that this initiative delivers is a significant example of how big corporates can partner with communities to create real and sustainable transformation.
 Creating the conditions for SA youth to flourish means not only providing the learning that will facilitate a university placement but often also providing the ongoing support of bursaries and internships to close this loop. And meeting a selection of Engen stakeholders, from executives who came through the bursary system to female engineers progressing against industry norms, this story gives us a glimpse into the hopeful possibilities for the future.
SA INC - Season 3 - Engen (11 minutes)
SA INC - Season 3 - Engen (5 minutes)
SA INC - Season 3 - Engen (Ayanda) (1 minute)
Recognising the strengths women bring, Exxaro, through its investment in women, is helping to grow SMEs and stimulate local economic development and is committed to creating hope and making a difference as it continues to power possibilities.
 Mining is a historically male-dominated industry, from the executives to the engineers to the providers across the supply chain. But recognising the strengths women bring, through collaboration, communication and leadership can unlock significant untapped value.
 DIVERSITY-DRIVEN VALUE CREATION.
It is critical for South Africa as a country to have women employed in senior positions. So many of our families are women-headed and there is extensive evidence to support the social progress that is enabled by women earners in their contribution to households and communities. Beyond this, diversity in human capital is a resource to be leveraged. A resource that brings innovation, shared value and inclusive business growth.
 Exxaro recognises this need for diversity in the mining industry. In addition to shifting the gender balance within their mining and management teams, the company is also focused on making business opportunities available to aspiring and competent women entrepreneurs within the value chain of the mine to help grow these SMEs and, in doing so, stimulate local economic development.
 #SAINC visited Exxaro's enterprise and supplier development programs to meet the inspiring women whose businesses are growing with input, training and support from the initiative, as well as the procurement partnership opportunities it provides. From people and financial management, business administration and understanding contracts to time management and email etiquette, the program equips business owners with the tools they need to thrive.  Beyond this engagement, Exxaro also provides access to interest-free loans and grants to further enable these businesses to scale, operate and, importantly, create employment.
 Mining communities generally work on a dependency ratio of 1 to 10. This means that for every business that is grown and sustained, the impact of each person employed by them is more far-reaching. And when these businesses start to look for opportunities beyond mining in their communities, the potential for positive impact is extensive.
 As a purpose-led business, Exxaro challenged themselves to think differently about development and social impact and how to approach it in a way that has mutual benefit, delivers shared value and creates the virtuous circle of win-win that is possible when a business operates on the premise of "good for business is good for society".
 And with 60 enterprises currently part of the program, Exxaro is committed to creating hope and making a difference as it continues to power possibilities.
SA INC - Season 3 - Exxaro (11 minutes)
SA INC - Season 3 - Exxaro (5 minutes)
SA INC - Season 3 - Exxaro (Hellen) (1 minute)
Focused on creating opportunities for economic activity and participation in global markets, the OR Tambo Special Economic Zone is a mechanism for inclusive socio-economic growth and transformation in South Africa.
 Jozi is the economic heart of South Africa. A city of vibrant energy and ambitious go-getters, of big business and dynamic entrepreneurs hungry to take advantage of opportunities for economic activity and participation in global markets.
 The OR Tambo Special Economic Zone is an economic development program that is focused on creating these opportunities with tax incentives and ease of access for international exports and investments.
 With an emphasis on jewellery manufacturing, health and pharmaceutical products, electronics and fresh food products, the SEZ is designed to drive beneficiation and global competitiveness as a mechanism for inclusive socio-economic growth and transformation in South Africa.
 The most established of the precincts to date is the precious metals cluster and it was here that #SAINC met an array of inspiring characters and got to see their dynamic businesses in action.
 Nonthando Molefe from Phatsima Jewellers graduated from the SEZ Design @50 Skills Studio where she learnt about international commercial jewellery and has been able to grow her business to take full advantage of the world's interest in African luxury.
 Nungu in Swahili means porcupine. A small but resilient animal. Kealeboga Pule compares this to being young and black in the diamond industry in South Africa and shares his joy of working with diamonds and the way they allow him to walk the journey of love with his clients. He also recounts the expansion opportunities that being part of the SEZ brings and shares his dreams and vision for the future of Nungu Diamonds.
 Thoko Zwane started as a polisher whilst she built the capital she needed to start Thoko Diamonds. Now run together with her son, Thoko's hard work and a lot of passion have turned her humble start-up into a million-dollar business and sown the seeds of a family legacy for generations to come. And she sees the SEZ as an opportunity to mentor young black women and grow their capability and skills in this largely male-dominated industry.
 Fuel Cells are another new and exciting opportunity being pursued as part of the SEZ. With the rapid growth of the green energy industry, green hydrogen is fast becoming one of the biggest business drivers of our time and this green hydrogen relies on South African-based platinum group metals.
 #SAINC had the chance to meet Vinay Somera and Sakib Khan to get a sense of Isondo Precious Metals who is working through the SEZ to drive this high-tech innovation into full-scale manufacturing, creating a core of graduate interns with the skills to go out and do this in the world whilst developing an industry that creates new jobs, new revenue streams and helps the South African economy to reindustrialise.
 The citizenry of Gauteng and South Africa are hungry for growth and the OR Tambo SEZ demonstrates the government's responsibility and commitment to work with the private sector to deliver on that promise.
SA INC - Season 3 - Gauteng IDZ (OR Tambo SEZ) (11 Minutes)
SA INC - Season 3 - Gauteng IDZ (OR Tambo SEZ) (5 minutes)
SA INC - Season 3 - Gauteng IDZ (Nungu & Thoko) (1 minute)
Glencore's investment in local communities through education, business incubation and health assists in growing skills, unlocking opportunities, uplifting communities and helping local economies to flourish.
 Mining communities in South Africa are largely rural, historically disadvantaged and vastly under-resourced. But a semigration to bigger cities is not necessarily the answer to these socio-economic woes. Eco-systemic interventions designed to shift the landscape on multiple levels can be the lever toward growing local skills, unlocking local opportunities and promoting local economies to flourish.
 And what better way to start than investing in local TVET colleges. #SAINC went off to the Mashishing TVET college to meet Tshepo, an engineering fabrication student and the first in his family to obtain a tertiary education.  With Glencore's support, the state-of-the-art TVET campus is delivering business and engineering education alongside vocational training. In doing so, they are growing a local skills base to take up employment opportunities with the mines whilst at the same time contributing to the NDA's target of training 30,000 artisans by 2030.
 From tertiary education to business incubation, our next stop was the Steelpoort Entrepreneurship hub where local small businesses are provided with access to services and training that assist them to grow both their financial and operational capacity. Here we met Sakhile from Femipower Supply who inspired us with her story of passion and resilience. Her success was assisted by support from the ESD hub and the opportunities provided by being part of the Glencore supply chain.
 But community upliftment often also requires relief services alongside developmental interventions. Glencore heeded the call of their Bethanie community to assist with a new and desperately needed health clinic in the area. With an investment of R30 million, a new facility was constructed and handed over to the North-West Province Department of Health. Now community members can access the care they need and doctors and nurses are fulfilled by their jobs and equipped to serve their patients in the high-quality, safe and healthy environment they deserve.
SA INC - Season 3 - Glencore (11 minutes)
SA INC - Season 3 - Glencore (5 minutes)
SA INC - Season 3 - Glencore (TVET) (1 minute)
JSE DRIVES FINANCIAL INCLUSION IN THE MARKET
Whilst we generally understand a stock exchange as a market for listed companies to raise capital through the buying and selling of shares, there are however several ways in which such exchanges can contribute to the much-needed growth of SMEs and the broader notion of financial inclusion as well.
 POWERING ECONOMIC GROWTH AND A CULTURE OF SAVING
For listed companies, there exists an opportunity for raising capital in the market but for the unlisted sector, the process is significantly more challenging. From SMEs who need strategic support to grow their operations to start-ups looking for investment funding to deliver impact solutions, connecting these dots into a forward trajectory is no easy feat.
 Enter the Johannesburg Stock Exchange. Tasking itself with advancing socio-economic development in South Africa, the JSE has instituted several programs to engage with this critical sector.  The Enterprise Acceleration Programme is designed to support the rapid scaling of medium-sized businesses into large enterprises whilst the innovative new JSE Private Placements platform connects pre-qualified investors in the private equity space with relevant and viable projects looking for appropriate investment partners.
 #SAINC went off to explore these initiatives and the great strides they are making in contributing to our economic growth. We visited some of the inspiring entrepreneurs accessing these much-needed platforms and programmes to see first-hand how the partnership interventions, mentoring, masterclasses and industry-specific support are empowering businesses to grow and scale, expanding their creative horizons and creating jobs and employment. And what's more, the initiatives are helping to build businesses that are designed to address some of the social and environmental challenges we face today.
 But their work goes beyond supporting the acceleration of the unlisted sector. #SAINC also had the opportunity to connect with youth participating in the JSE Investment Challenge, a long-standing initiative that is designed to educate youth on the workings of the capital market, its role in the economy and how to invest in shares. The program is implemented in schools spanning the rural to the urban landscape of the county. And with a virtual million rand that each team is tasked with growing, these youth are building the independent thinking skills and understanding to drive a South African culture where everyone is included financially and people are empowered to make informed decisions.
SA INC - Season 3 - JSE (11 minutes)
SA INC - Season 3 - JSE (5 minutes)
SA INC - Season 3 - JSE (Investment Challenge) (1 minute)
Through strategic enterprise and supplier development partnerships, Nestlé is uplifting local communities and creating shared value.
In 1946, the Makhoba people were forcibly removed from their ancestral land where they had lived for more than a century and were relocated to the mountainous area of Matatiele in the Eastern Cape. In 2002, after a successful land claim, their 10,000 hectares of land were returned to them by President Thabo Mbeki allowing the 7,000-strong community to resettle on their land.
Through the assistance of organisations and the local farming community, the Makhoba tribe established a sizeable and successful dairy. Today, Springfontein Dairy is the largest black-owned dairy supplier to Nestlé, supplying approximately 4.5 million litres of milk per year. However, regardless of the success of the dairy, the farm is located in the remote area of Swartberg in KwaZulu-Natal where the lack of education and work opportunities pose a huge challenge to the community.
Inyosi Empowerment, Nestlé's enterprise and supplier development partner, believes the solution lies in the partnership between the community and the private sector. In 2018, President Ramaphosa launched the YES (Youth Employment Service) initiative intending to place unemployed youth in paid internships within South African companies. Nestlé jumped at the opportunity and, through their partnership with Inyosi Empowerment, almost 300 young people from the Makhoba community have completed the programme.
#SAINC took a trip to Swartberg to document the inspiring story of how the partnership between Nestlé and the Makhoba community has united them through shared values and is uplifting the lives of the Makhoba people.
SA INC - Season 3 - Nestlé (11 minutes)
SA INC - Season 3 - Nestlé (5 minutes)
SA INC - Season 3 - Nestlé - Bruno (1 minute)
With a belief in their people, their product and their country, Northam Platinum's homeownership scheme seems to be transforming the face of mining in South Africa.
In an attempt to undo historical injustices, Northam Platinum has revolutionised the housing crisis associated with migrant labour by building houses for their employees and allowing them to become homeowners.
In a world where this was seemingly impossible, families are being reunited, people are becoming first-time homeowners and young families are finally able to get onto the property ladder. This transformed environment also means that workers are no longer forced to live lonely lives in dangerous accommodations and the legacy of migrant labour is no longer an impediment to social and economic change.
Northam Platinum's housing scheme is designed to enable employees to buy these houses at cost, removing a massive financial burden and allowing families to flourish in their own private space. Developments are also open to the broader community with affordable housing solutions providing safe and secure homes in an integrated community environment.
The homeownership scheme epitomises the ethos of a shared value business where the company has a meaningful tool to attract and retain employees and where the lives of those employees are changed for the better with positive benefits to productivity, mental health and well-being, development and educational outcomes for children.
Gone are the days of seasonal, temporary or contract workers. With the security of a comfortable home they can call their own and permanent employment, it is no surprise that Northam Platinum's staff complement has grown from 10,000 people in 2010 to 18,300 today.
The influx of people creates a need for new schools, facilities and retail options, as well as improved infrastructure, all of which Northam Platinum is working closely with local municipalities to support. This extends further to include a brand new and much-needed clinic in the area which has had a significantly positive impact. It has eliminated the need for expensive travel to the nearest clinic 50km away and has vastly improved the health and well-being of the entire community through the state-of-the-art facility on their doorstep.
With a belief in their people, their product and their country, Northam Platinum seems to be transforming the face of mining in South Africa. As it continues to grow, communities around it will expand and flourish, bringing about a new era of growth, potential and positivity in South Africa.
SA INC - Season 3 - Northam Platinum (11 minutes)
SA INC - Season 3 - Northam Platinum (5 minutes)
SA INC - Season 3 - Northam Platinum - Unity Shiburi (1 minute)
Old Mutual's commitment to Impact Investing extends further than education, emphasising the personal involvement and support required to grow businesses and connect profit with purpose.
Private education was once the domain of the affluent but innovative models that bring private sector investment to cater to the increasing demand around education infrastructure and quality learning opportunities for South African youth are changing that dynamic.
Sizwe Nxasana retired from a corporate career and decided it was time to give back. He wanted to create a learner-centred project-based education environment that would enable disadvantaged youth to flourish. But more than that, he wanted to facilitate the development they needed to step boldly into a future we do not yet understand.
Old Mutual Alternative Investments helped him to achieve this, incorporating his Fleurhof Future Nations schools into the education impact investment fund whose focus has successfully expanded access to affordable quality education over the last decade.
Old Mutual's commitment to investing with impact extends further than education, with an ethos in the private equity division that emphasizes the personal involvement and support required to grow the businesses in the portfolio.
So, in addition to our visit to Fleurhof, #SAINC also had the opportunity to call on the first Footgear store in Access Park, Cape Town and to learn from the various stakeholders what the phenomenal growth in this business has done, not only in access for customers but job creation, employment and livelihoods as well, alongside its impressive profitability.
Impact investing is indeed the nexus of profit and purpose and stories like these prove that win-win initiatives are fully within our grasp.
SA INC - Season 3 - Old Mutual (11 minutes)
SA INC - Season 3 - Old Mutual - Cernell (1 minute)
SA INC - Season 3 - Old Mutual - Niel (1 minute)
Celebrating both colour and diversity, Plascon's commitment to developing innovation that improves the lives of its customers extends naturally from lifestyle and aesthetics to health and the environment.
 Colour plays a significant role in our day-to-day lives. It influences our mood, conveys our unique style and comes together to create environments that inspire and challenge us. And no one knows that better than paint-makers Plascon.
 From colour palettes to product design, with its tagline of 'Together We Got This', Plascon's commitment is to develop innovation that improves the lives of its customers. And this extends naturally from lifestyle and aesthetics to health and the environment. #SAINC visited the Plascon Innovation Lab to learn how recycled packaging and in-paint air purifying formulations are pioneering the way to a Re-invented, Re-imagined, Re-connected customer experience.
 We also visited the National School of the Arts (NSA) in Braamfontein. It's an institution that celebrates both colour and diversity in South African society and is a natural fit as Plascon's social investment education partner. Here we met some of the inspiring young artists in attendance whose creativity and colourful personalities were apparent in spades. And we got to discover more about the variety of initiatives that formulate the NSA's partnership with Plascon from renovations and signage to whimsical, colourful art installations.
 Then, heading off to Newtown Junction,  we got to meet some of the former students whose artworks had been selected for installation as murals in the precinct and to learn from them the powerful ways in which art has evolved to become a voice for social activism, sparking conversation and changing perspectives across the socio-political spectrum.
 South Africa is known as a rainbow nation and seeing young artists blooming and blossoming and owning their creative voices is a powerful reminder of the hopeful future ahead of us.
SA INC - Season 3 - Plascon (11 minutes)
SA INC - Season 3 - Plascon (5 minutes)
SA INC - Season 3 - Plascon (Naledi) (1 minute)
SANLAM'S SYSTEMIC DEVELOPMENT COMMITMENT.
As one of Africa's most established financial services groups, Sanlam is committed to making a positive impact across the spectrum of transformation and development needs with a multitude of social investment, enterprise development and sustainability-focused initiatives in place to do just that.
 THE TRIPLE AGENDA OF EDUCATION, JOB CREATION AND RESOURCE STEWARDSHIP.
Balancing the needs of people, planet and profit is a tricky endeavour globally. All the more so in South Africa where job creation, quality education and resource stewardship are all high-priority items on the national agenda.
 #SAINC went off to Dobsonville, Soweto, to see Sanlam's systemic school intervention in action. Working together with educators in the classroom to build their teaching capacity, direct engagement with learners and the provision of tablets and data, the program has impacted over 60,000 learners to date. And with a significant improvement in matric results, this cohort of learners is ready to step into a brighter future. 
 Next up we visited the Western Cape's Berg River catchment area to explore the water conservation initiatives being implemented in partnership with the WWF and to see first-hand the remarkable impact that alien invasive clearing has on the city's water supply.
 From there it was back to Jozi to meet one of the firecracker entrepreneurs who, with grit and determination and some help from Sanlam's ESD incubator, has grown her panel beating business into a significant industry player.
 Across the board, purposeful engagement from a committed corporate citizen is delivering positive progress and changing lives at scale.
SA INC - Season 3 - Sanlam (11 minutes)
SA INC - Season 3 - Sanlam (Education) (4 minutes)
SA INC - Season 3 - Sanlam (SME) (Thembi) (1 minute)
Realising that entrepreneurs are going to be the backbone of our economy in the future, Santam is not only focused on risk management but is also supporting and encouraging the growth of SMEs and inspiring more people to take the first step on this exciting and important journey.
 Insurance is a grudge purchase that only gives pleasure when tragedy or emergency hits. But often it is the most vulnerable in our society who are both susceptible to the most risk and who are lacking in that security blanket when it's needed most.
 It's not easy to be a deaf person. Sign language is the only way they can communicate with the outside world and for students at Yingisani Special School in Tzaneen, the boarding school environment is the optimal way for them to access education and social interaction.  The school location however makes it susceptible to fires, floods, windstorms and other hazards and managing these risks for deaf learners requires some careful intervention. Santam's support of the school through smoke alarms attached to sirens, control panels and strobe lighting systems have ensured the ability for a quick response with mechanisms to alert the students and secure their safety in the event of a crisis.
 Informal locations also represent a high risk when it comes to fire management and control. Santam's Partnership for Risk and Resilience, also known as P4RR, is designed to build resilience in vulnerable communities by working with the municipalities, fire services and community volunteers to develop practical solutions to the perils they face.
From the installation of smoke detectors and the provision of SKID that can access where no fire truck can, Santam is helping build the prevention and response capabilities of these municipalities, making a good impact and doing good business as well. The initiatives extend further to awareness training for children and community members with a mobile trailer that attracts the requisite attention and interest to get the message across, as well as disaster simulations to help firefighters and other service providers train and practice their response protocols in case of drastic emergencies.
 Santam however is not only focused on risk management but realizes also that entrepreneurs are going to be the backbone of our economy into the future and indeed the backbone of the company's customer base. With initiatives like the Santam Woman of the Future Award, in association with Fair Lady and True Love, Santam is supporting and encouraging the growth of SMEs and inspiring more people to take the first step on this exciting and important journey.
SA INC - Season 3 - Santam (11 minutes)
SA INC - Season 3 - Santam (5 minutes)
SA INC - Season 3 - Santam (CSI) (1 minute)
Through its Connected Schools project, Telkom Foundation creates opportunities for disadvantaged communities by using technology to improve the quality of Mathematics, Science and English education.
Levelling the playing fields between rural and urban schools is fundamental to South Africa achieving and sustaining the socio-economic growth and financial inclusion we are striving for and Telkom Foundation believes that coding, as our 12th official language, would help achieve just that.
The Telkom Foundation launched the Connected Schools project in 2017, pledging over R200 million over 5 years with a focus on using technology to improve the quality of Mathematics, Science and English education to create opportunities for disadvantaged communities.
#SAINC travelled to the Eastern Cape and Gauteng to see some of this work in action and to meet the inspiring students and passionate stakeholders making this opportunity a reality.
Bantu-Bethu Beya has first-hand experience of the pressures of being influenced by a bad crowd. But being introduced to the Telkom Foundation Saturday school and coding program has unlocked a whole new world for this computer whiz kid who has reconnected with his academic inspirations and has his sights set on a very bright future.
Likewise, Asemahle is a bright-young spark whose team at school created a bus ticket app as part of their programming course. She lost her mother when she was a young girl and stays with her granny who is a former Science and Physics teacher.
The program not only provides fully connected labs and device access, equipping educators to better empower their learners and learners to become skilled to operate in a technological world but also helps them to learn resilience and receive the social support needed for their holistic personal development. Telkom Foundation also provides access to bursaries to ensure that those opportunities are accessed and optimised to the fullest helping to facilitate the emergence of a new and powerful generation of South African innovation.
SA INC - Season 3 - Telkom Foundation (11 minutes)
SA INC - Season 3 - Telkom Foundation (5 minutes)
SA INC - Season 3 - Telkom Foundation - Saturday School (1 minute)
The Telkom FutureMakers enterprise and supplier development program supports small business growth and provides market access.
Telecommunications is an industry in continuous evolution with its capacity and progressive capability driving innovation and opportunity in an ever-expanding digital universe.
Telkom deeply understands this changing environment, demonstrating its resilience and adaptability as it forges its principal position in our technology landscape, creating, alongside it, immense opportunities for independent value chain enterprises to grow and thrive.
#SAINC went off to explore the Telkom FutureMakers initiative and its array of enterprise and supplier development programs designed to support small business growth and provide market access.
We met business owners incubated through the Independent Field Technicians Program (IFT) who are now equipped to deliver an outsourced fault repair service to Telkom networks. We were also exposed to tech businesses scaling through access to venture capital from the IDF fund and we engaged with the innovative social solutions being activated through the Township Incubator. Across the board, this story presents an inspiring account of socio-economic growth and transformation through the efforts of a company committed to making a sustainable contribution toward the growth of SMMEs in the technology sector.
SA INC - Season 3 - Telkom FutureMakers (11 minutes)
SA INC - Season 3 - Telkom FutureMakers (5 minutes)
SA INC - Season 3 - Telkom FutureMakers - Township Incubator (1 minute)
Within the context of high unemployment, local manufacturing is a sure-fire way to boost local economic activity and job creation.
And few South African businesses understand this like TFG Limited. For many years now, this retail chain-store group has bucked the trend and has built a legacy of desirable investor returns alongside a growing portfolio of quality products and store brands strategically focused on the customer experience.
With a proudly South African ethos of "Local is Lekker", The Foschini Group continues to intensify its engagement with local artisans and entrepreneurs in unexpected ways, shapes and forms. From independent homeware designers whose ranges now feature in @HOME stores across the country to innovative store concepts that include basketball courts, tattoo artists and free recording studios, the group's commitment to helping young talent to flourish is both evident and innovative and entirely business savvy.
A commitment that extends further to local textile manufacturing with an emphasis on diversity and inclusion, this engagement includes TFG's partnership with St Vincent's school of the deaf, providing training and extensive job opportunities for hearing-impaired individuals. The Caledon-based Prestige Clothing factory is another example of this purposeful business approach, empowering a significantly under-resourced community with skills, jobs and opportunities for socio-economic upliftment whilst concurrently reigniting South Africa's local textile industry to become the largest apparel manufacturer in the country.
From manufacturing to retail, TFG's commitment to the South African public is clear. The takeover of JET stores is further evidence of this, allowing 6000 jobs to be saved and the livelihoods of all those who depended on them to be preserved.
Balancing the priorities of multiple stakeholders is always a juggle but TFG seems to exemplify the notion of "doing good is good for business" as an inclusive, achievable and sustainable outcome for all.
SA INC - Season 3 - The Foschini Group (TFG) (11 minutes)
SA INC - Season 3 - The Foschini Group (TFG) (5 minutes)
SA INC - Season 3 - The Foschini Group (TFG) - Faheema (1 minute)
TRANSFORMING BANKING TO EMPOWER PEOPLE.
Enabling customers to engage as economic agents and giving people power in their own lives, TymeBank was purposefully set up with a desire to improve lives and empower South Africans.
 IT'S TYME TO DISRUPT BANKING.
South Africa has a very sophisticated banking system but it's expensive, complicated and intimidating. This, coupled with significant barriers to entry, onerous sign-up processes and a generally negative customer experience has resulted in a detrimental lack of financial inclusion.
 For socio-economic growth to take place at scale, we need as many people as possible to be included in the financial system because the more people get included, the more we, as a country, become empowered.
The people of South Africa have amazing potential. But unlocking this potential requires a bank to believe in and work with you. TymeBank was set up to disrupt the status quo with accessible products and services and affordable rates. Beyond that, it was purposefully set up with a desire to improve lives and empower South Africans.
 #SAINC went off to meet a bunch of TymeBank stakeholders, from the remarkably passionate executives living out the professional purpose to the individual and business customers who have found, in TymeBank, a service provider that understands and delivers on their needs.
 From remote IT technicians who hardly have time to eat, never mind bank, to vibrant business owners handling cash on a day-to-day basis, TymeBank is growing its customer base at a rapid pace.
Building on the understanding that no one wakes up in the morning saying they want to go into a bank branch, TymeBank has delivered to South Africa a unique and pioneering hybrid banking experience. With a mobile app that allows you to transact at all levels, TymeBank has embedded its live customer experience into the retail environment that its customers access every day.
 And being independently rated as the most affordable bank account in the country and the savings account with the highest interest rate, as well as being the easiest and most accessible account-opening process the world over, it's no wonder this newcomer to the market has over 5 million customers and growing.
 Banking should be for everyone. And with the world in its current process of rapid transformation, TymeBank CEO, Coenraad Jonker, believes it's the job of his bank to drive this much-needed change in South Africa enabling customers to engage as economic agents and give people power in their own lives.
SA INC - Season 3 - TymeBank (11 minutes)
SA INC - Season 3 - TymeBank (5 minutes)
SA INC - Season 3 - TymeBank (Lutha) (1 minute)
The Water Research Commission (WRC), in partnership with rural communities and local municipalities, is assisting with cost-effective and sustainable access to water.
Since 2012, there has been a general water shortage in the village of Tshakuma in the Limpopo Province of SA. The municipal water scheme was unreliable and the community often had to go days and sometimes weeks without water. The situation in this village was mirrored by countless other villages in the area, leaving people increasingly vulnerable. Not only is water crucial for personal use but people need water for their gardens, crops and livestock. For any business to be sustainable, a person needs a reliable, good source of water.
Surveying the situation and feeling compelled to step in, one particular Tshakuma resident, Mrs Florence Negondeni, decided to act. She recounts how the crisis made her think about "ancient areas in the mountains where our people used to get water from" and after surveying the mountains, MaFlorence and other community members discovered several springs and proceeded with their water supply scheme. R113,000 was raised from 113 households to construct a pipe down from the mountain. 13 days later over 4,000 people had access to water.
#SAINC visited Limpopo to see the expansion of this initiative, in partnership with the Water Research Commission, and how its Operationalising Community-Driven Multiple-Use Water Services have cost-effectively and sustainably assisted to bridge the gap between informal, self-supply solutions and formal council & government-led solutions.
SA INC - Season 3 - Water Research Commission (WRC) (12 minutes)
SA INC - Season 3 - WRC (5 minutes)
SA INC - Season 3 - WRC - MamaFlo (1 minute)