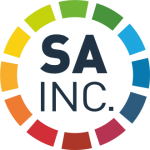 SA INC is about changing conversations – from the dinner table to the shebeen, from dusty street corners to gym cafeterias. It's about shaking off the doom and gloom of mainstream media and sharing the positive real news that doesn't reach the headlines. SA INC tells stories about South Africa's most progressive, innovative and switched-on organisations, that are placing people at the centre of their vision and have committed to the ethos of profit-with-purpose and the pursuit of inclusive, sustainable business growth. Be inspired as we share these stories throughout 2022 and into 2023, celebrating all that is good in South Africa.
The third season of SA INC has kicked off and is now being broadcast on a number of local, national and international TV networks.
Check back regularly on this page for more inspiring stories as we celebrate all that is good in South Africa.
SA INC – We're not just telling stories, we're changing lives. 
Accenture is strategically investing in youth skills and enterprise development.
With growing poverty, rising unemployment and persistent inequality severely constraining our prospects of economic recovery, South Africa needs collaborative solutions to help shift the tide in a different direction. With the explosion of cloud-based technology solutions, there lies a significant opportunity for South Africa to build the capabilities of its youth, unlocking the potential of this lucrative industry at both a local and global level and providing much-needed skills to support a trajectory of strengthened economic growth.
However, it requires businesses to step up and harness this opportunity. It requires visionary leadership to take the enormous potential that young people have in this country and shape and mould it into something tangible where we can not only benefit from extensive quality jobs but also take our place firmly as leaders in a digital world.
Accenture has been at the forefront of recognising the potential of a skilled South African workforce. Collaborating with grassroots organisations, strategic partners and enterprise development specialists, the company is strategically investing in the type of skills development that leads to actual jobs and empowers and enables individuals and small businesses to thrive.
#SAINC went to explore these inspiring initiatives, from the Langa-based NGO, Quirky30, which teaches coding to township youth, to the women-led enterprises scaling innovative tech solutions and the trailblazing Skills to Succeed Academy offering an interactive, online training program that helps learners to build the skills and confidence they need to make smart career choices and find employment and success.
SA INC - Season 3 - Accenture (11 minutes)
SA INC - Season 3 - Accenture (5 Minutes)
SA INC - Season 3 - Accenture (1 minute)
Through strategic enterprise and supplier development partnerships, Nestlé is uplifting local communities and creating shared value.
In 1946, the Makhoba people were forcibly removed from their ancestral land where they had lived for more than a century and were relocated to the mountainous area of Matatiele in the Eastern Cape. In 2002, after a successful land claim, their 10,000 hectares of land were returned to them by President Thabo Mbeki allowing the 7,000-strong community to resettle on their land.
Through the assistance of organisations and the local farming community, the Makhoba tribe established a sizeable and successful dairy. Today, Springfontein Dairy is the largest black-owned dairy supplier to Nestlé, supplying approximately 4.5 million litres of milk per year. However, regardless of the success of the dairy, the farm is located in the remote area of Swartberg in KwaZulu-Natal where the lack of education and work opportunities pose a huge challenge to the community.
Inyosi Empowerment, Nestlé's enterprise and supplier development partner, believes the solution lies in the partnership between the community and the private sector. In 2018, President Ramaphosa launched the YES (Youth Employment Service) initiative intending to place unemployed youth in paid internships within South African companies. Nestlé jumped at the opportunity and, through their partnership with Inyosi Empowerment, almost 300 young people from the Makhoba community have completed the programme.
#SAINC took a trip to Swartberg to document the inspiring story of how the partnership between Nestlé and the Makhoba community has united them through shared values and is uplifting the lives of the Makhoba people.
SA INC - Season 3 - Nestlé (11 minutes)
SA INC - Season 3 - Nestlé (5 minutes)
SA INC - Season 3 - Nestlé - Bruno (1 minute)
With a belief in their people, their product and their country, Northam Platinum's homeownership scheme seems to be transforming the face of mining in South Africa.
In an attempt to undo historical injustices, Northam Platinum has revolutionised the housing crisis associated with migrant labour by building houses for their employees and allowing them to become homeowners.
In a world where this was seemingly impossible, families are being reunited, people are becoming first-time homeowners and young families are finally able to get onto the property ladder. This transformed environment also means that workers are no longer forced to live lonely lives in dangerous accommodations and the legacy of migrant labour is no longer an impediment to social and economic change.
Northam Platinum's housing scheme is designed to enable employees to buy these houses at cost, removing a massive financial burden and allowing families to flourish in their own private space. Developments are also open to the broader community with affordable housing solutions providing safe and secure homes in an integrated community environment.
The homeownership scheme epitomises the ethos of a shared value business where the company has a meaningful tool to attract and retain employees and where the lives of those employees are changed for the better with positive benefits to productivity, mental health and well-being, development and educational outcomes for children.
Gone are the days of seasonal, temporary or contract workers. With the security of a comfortable home they can call their own and permanent employment, it is no surprise that Northam Platinum's staff complement has grown from 10,000 people in 2010 to 18,300 today.
The influx of people creates a need for new schools, facilities and retail options, as well as improved infrastructure, all of which Northam Platinum is working closely with local municipalities to support. This extends further to include a brand new and much-needed clinic in the area which has had a significantly positive impact. It has eliminated the need for expensive travel to the nearest clinic 50km away and has vastly improved the health and well-being of the entire community through the state-of-the-art facility on their doorstep.
With a belief in their people, their product and their country, Northam Platinum seems to be transforming the face of mining in South Africa. As it continues to grow, communities around it will expand and flourish, bringing about a new era of growth, potential and positivity in South Africa.
SA INC - Season 3 - Northam Platinum (11 minutes)
SA INC - Season 3 - Northam Platinum (5 minutes)
SA INC - Season 3 - Northam Platinum - Unity Shiburi (1 minute)
The Telkom FutureMakers enterprise and supplier development program supports small business growth and provides market access.
Telecommunications is an industry in continuous evolution with its capacity and progressive capability driving innovation and opportunity in an ever-expanding digital universe.
Telkom deeply understands this changing environment, demonstrating its resilience and adaptability as it forges its principal position in our technology landscape, creating, alongside it, immense opportunities for independent value chain enterprises to grow and thrive.
#SAINC went off to explore the Telkom FutureMakers initiative and its array of enterprise and supplier development programs designed to support small business growth and provide market access.
We met business owners incubated through the Independent Field Technicians Program (IFT) who are now equipped to deliver an outsourced fault repair service to Telkom networks. We were also exposed to tech businesses scaling through access to venture capital from the IDF fund and we engaged with the innovative social solutions being activated through the Township Incubator. Across the board, this story presents an inspiring account of socio-economic growth and transformation through the efforts of a company committed to making a sustainable contribution toward the growth of SMMEs in the technology sector.
SA INC - Season 3 - Telkom FutureMakers (11 minutes)
SA INC - Season 3 - Telkom FutureMakers (5 minutes)
SA INC - Season 3 - Telkom FutureMakers - Township Incubator (1 minute)
Within the context of high unemployment, local manufacturing is a sure-fire way to boost local economic activity and job creation.
And few South African businesses understand this like TFG Limited. For many years now, this retail chain-store group has bucked the trend and has built a legacy of desirable investor returns alongside a growing portfolio of quality products and store brands strategically focused on the customer experience.
With a proudly South African ethos of "Local is Lekker", The Foschini Group continues to intensify its engagement with local artisans and entrepreneurs in unexpected ways, shapes and forms. From independent homeware designers whose ranges now feature in @HOME stores across the country to innovative store concepts that include basketball courts, tattoo artists and free recording studios, the group's commitment to helping young talent to flourish is both evident and innovative and entirely business savvy.
A commitment that extends further to local textile manufacturing with an emphasis on diversity and inclusion, this engagement includes TFG's partnership with St Vincent's school of the deaf, providing training and extensive job opportunities for hearing-impaired individuals. The Caledon-based Prestige Clothing factory is another example of this purposeful business approach, empowering a significantly under-resourced community with skills, jobs and opportunities for socio-economic upliftment whilst concurrently reigniting South Africa's local textile industry to become the largest apparel manufacturer in the country.
From manufacturing to retail, TFG's commitment to the South African public is clear. The takeover of JET stores is further evidence of this, allowing 6000 jobs to be saved and the livelihoods of all those who depended on them to be preserved.
Balancing the priorities of multiple stakeholders is always a juggle but TFG seems to exemplify the notion of "doing good is good for business" as an inclusive, achievable and sustainable outcome for all.
SA INC - Season 3 - The Foschini Group (TFG) (11 minutes)
SA INC - Season 3 - The Foschini Group (TFG) (5 minutes)
SA INC - Season 3 - The Foschini Group (TFG) - Faheema (1 minute)
The Water Research Commission (WRC), in partnership with rural communities and local municipalities, is assisting with cost-effective and sustainable access to water.
Since 2012, there has been a general water shortage in the village of Tshakuma in the Limpopo Province of SA. The municipal water scheme was unreliable and the community often had to go days and sometimes weeks without water. The situation in this village was mirrored by countless other villages in the area, leaving people increasingly vulnerable. Not only is water crucial for personal use but people need water for their gardens, crops and livestock. For any business to be sustainable, a person needs a reliable, good source of water.
Surveying the situation and feeling compelled to step in, one particular Tshakuma resident, Mrs Florence Negondeni, decided to act. She recounts how the crisis made her think about "ancient areas in the mountains where our people used to get water from" and after surveying the mountains, MaFlorence and other community members discovered several springs and proceeded with their water supply scheme. R113,000 was raised from 113 households to construct a pipe down from the mountain. 13 days later over 4,000 people had access to water.
#SAINC visited Limpopo to see the expansion of this initiative, in partnership with the Water Research Commission, and how its Operationalising Community-Driven Multiple-Use Water Services have cost-effectively and sustainably assisted to bridge the gap between informal, self-supply solutions and formal council & government-led solutions.
SA INC - Season 3 - Water Research Commission (WRC) (12 minutes)
SA INC - Season 3 - WRC (5 minutes)
SA INC - Season 3 - WRC - MamaFlo (1 minute)