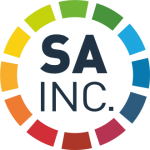 SA INC is about changing conversations – from the dinner table to the shebeen, from dusty street corners to gym cafeterias. It's about shaking off the doom and gloom of mainstream media and sharing the positive real news that doesn't reach the headlines. SA INC tells stories about South Africa's most progressive, innovative and switched-on organisations, that are placing people at the centre of their vision and have committed to the ethos of profit-with-purpose and the pursuit of inclusive, sustainable business growth. Be inspired as we share these stories throughout 2021 and into 2022, celebrating all that is good in South Africa.
The ABB education trust is not only nurturing black, female engineering talent in South Africa but is also guiding this talent into the provision of on-trend solutions globally.
Traditionally, the field of engineering has been very male-dominated and the percentage of female engineers at universities and in the workplace is substantially lower than it should be. To address that and in response to South Africa's high unemployment rates, ABB has developed an education trust which benefits black, female engineers in South Africa.
ABB is a global, multi-national company and a pioneering leader in the digital space. By harnessing the untapped potential of the youth, they are not only facilitating the provision of on-trend services and solutions globally but are also ensuring that women fill top management positions in their company.
SA INC met Onalethata Kabela, a passionate and dedicated sales specialist in grid automation at ABB, who says that she wasn't simply identified as a female engineering talent but as an engineering talent in her own right. What's more, in the 10 years that she's been at ABB she has seen the number of females in their factory increase sevenfold. Through their education initiatives, ABB is not only empowering the future female leaders of tomorrow but is also reinventing the field of engineering in South Africa.
SA INC S2 EP6 ABB 12minute
SA INC S2 EP6 ABB 5minute
SA INC S2 EP6 ABB Abraham 1minute
Through enterprise and supplier development, along with innovation, Anglo American is reinventing mining and uplifting the communities in which they operate.
Mining giant, Anglo American, is passionate about the communities surrounding their operations and, as a result, is focussing on skills development beyond their industry. The reason for this is that the earth's resources are limited and when mines move on to other ore sources the communities around the mines are usually left destitute. To that end, the Anglo Zimele Enterprise and Supplier Development programmes are helping mining communities to be independent.
By providing SMMEs with soft loans, training, and mentorship, Anglo Zimele has helped over 2,300 entrepreneurs who, in turn, employ around 50,000 people. In addition, they are not only integrating their suppliers into their value chain but also empowering them to operate beyond the mine.
Another way Anglo American is helping communities is through innovation. SA INC visited the Venetia Diamond Mine where, through an investment of $2 billion, the open pit operation is being moved underground. Through this, the life of the mine is extended by 25 years and continues to provide employment and business opportunities to the community. It is clear that Anglo American believes in South Africa's future and its potential and, through reimagining mining, they truly are improving people's lives.
SA INC S2 EP6 Anglo American 12minute
SA INC S2 EP6 Anglo American 5minute
SA INC S2 EP6 Anglo American The Barnards 1minute
Community development is the focus of AVBOB's business and social investment strategies and is demonstrated through its enterprise development, literacy and sanitation projects.
Community development lies at the core of AVBOB's business and social investment strategies. AVBOB is a mutual insurance society which is owned by its six million-plus policyholders. They are committed to growing their business specifically to give better support to policyholders in rural areas and do so through their innovative enterprise development model. All their branches are independently owned and, through AVBOB's assistance with infrastructure, they establish successful businesses which, in turn, employ a vast amount of people.
AVBOB's commitment to community development also extends to the education sector of South Africa. In partnership with the Department of Education, AVBOB is actively combatting literacy issues through their donation of state-of-the-art container libraries to underprivileged schools throughout the country. Furthermore, in a drive to eradicate dangerous pit latrines at schools, AVBOB is contributing to the Department's Sanitation Appropriate for Education project through the construction of ablution facilities.
Through these sustainable community development projects, AVBOB is truly realising their commitment to responsible corporate citizenship along with fostering a legacy of success for many South Africans.
SA INC S2 EP4 AVBOB 12minute
SA INC S2 EP4 AVBOB 5minute
SA INC S2 EP4 AVBOB Regina 1minute
As a responsible credit provider, Bayport's financial services not only assist the 'missing middle' with finance but are also instrumental in their financial education.
The financial services provided by Bayport, South Africa's third-largest unsecured lender, are playing a huge role in assisting those South Africans who form part of the missing middle. Due to a lack of security, they are usually refused loans from traditional financial institutions. Bayport steps in by not only enabling them to secure finance but also playing a critical role in their financial education.
SA INC met self-confessed shopaholic, Busisiwe Mthimkhulu, who describes the dire financial situation she found herself in after amassing a lot of debt at various banks and retailers. Bayport consolidated all her loans and she is relieved at being in control of her financial situation once more.
Being a responsible credit provider, Bayport is passionate about making a difference in people's lives. Not only do they help consumers manage their debt but they also provide them with financial advice, financial education and product education. Through their trusted financial services, Bayport believes that they are contributing to the well-being of their clients and helping them to build a bright future.
SA INC S2 EP9 Bayport 12minute
SA INC S2 EP9 Bayport 5minute
SA INC S2 EP9 Bayport Money Solutions 1minute
Through its philanthropy programmes, Citadel is not only helping its clients reach their dreams but is also facilitating sustainable upliftment and development projects.
The wealth management company, Citadel, is making a sustainable difference in the lives of many through their philanthropy programmes. They do this through the Citadel Philanthropy Foundation (CPF) and the Citadel Talmar Impact Foundation. The CPF is a donor-advised fund which matches donors with sustainable projects that have a huge impact.
One such project is The Principal's Academy which personally and professionally develops principals from underprivileged schools. This leads to not only empowering their staff members but also the learners. The CPF has also, in partnership with the Ronan Keating Foundation, upgraded the Oncology Unit at the Red Cross War Memorial Children's Hospital. In Alexandra township, through the Afrika Tikkun Early Childhood Development Centre, the CPF is facilitating the holistic development of pre-schoolers.
SA INC visited the small community of Onseepkans in the Northern Cape where the Citadel Talmar Foundation has enabled the community to grow high-value export raisins. This year, the produce they exported was worth close to R5 million giving the community a renewed sense of hope. Through these programmes, Citadel is not only helping its clients to reach their dreams but is also creating a lasting legacy for many South Africans.
SA INC S2 EP5 Citadel 12minute
SA INC S2 EP5 Citadel 5minute
SA INC S2 EP5 Citadel Red Cross Oncology Department 1minute
High-quality infrastructure development projects implemented by the DBSA at poor and rural schools not only benefit the learners but also uplifts the entire community.
Historically, schools in the rural and poorer areas of South Africa have had huge challenges in terms of quality infrastructure. Overcrowded classrooms with no desks or cupboards, leaking roofs and compromised structural integrity severely affected the learners' ability to focus on their studies.
In answer to this, the DBSA, a governmental implementing agent, has been instrumental in improving the facilities at these schools. With funding provided by the Department of Education, the DBSA ensures that professional teams are brought in to renovate, refurbish and build high-quality structures.
SA INC visited the Phalalong Primary School in Limpopo where the old, community-built school has been entirely reconstructed. As a solution to the lack of water at the site, the DBSA facilitated the construction of Enviroloo toilets, thereby eradicating the need for dangerous pit toilets. In addition, members of the community are frequently upskilled and employed on the construction projects, thereby benefitting the economical development of the areas too.
By implementing excellent infrastructure, the DBSA not only provides learners with the opportunity to excel at their studies but also benefits the community as a whole.
SA INC S2 EP9 DBSA 12minute
SA INC S2 EP9 DBSA 6minute
SA INC S2 EP9 DBSA Principal Noko 1minute
Fedgroup Impact Farming disrupts investment models by providing a platform through which investors can purchase assets that have a sustainable social and environmental impact.
Impact farming is a global trend that is revolutionising investment profiles. Investors want to ensure that their funds are not merely generating a profit but that they also have a sustainable environmental and social impact. Emulating this movement, Fedgroup, South Africa's leading independent financial services provider, is disrupting traditional investment models through its Impact Farming app.
Adopting a simplistic iPad approach, the app offers three investment assets – solar panels, blueberry bushes and beehives – which are farmed on the investor's behalf by skilled farmers. Along with the positive impact it has on the environment, the low barriers to entry make it accessible to anyone from millennials to pensioners.
Furthermore, the effect that impact farming has had on job creation and enterprise development is significant. Small-scale farmers now have the opportunity to scale their operations without having to invest their capital. SA INC met up with beekeeper, Zongezile Jack, whose life has improved considerably since the launch of the app. In the words of Fedgroup CEO, Grant Field, Impact Farming is transparent, it's simple, and it makes a difference in people's lives.
SA INC S2 EP2 Fedgroup 12minute
SA INC S2 EP2 Fedgroup 3minute
SA INC S2 EP2 Fedgroup Zongezile Jack 1minute
The GIDZ industrial hub facilitates economic development and sustainable employment opportunities through a world-class facility geared for export.
The industrial hub constructed by the Gauteng Industrial Development Zone (GIDZ) at O.R. Tambo International Airport has resulted in a world-class facility with a logistics capacity of close to 40 000 tonnes of airfreight per annum. It focuses not only on the production of export products but also on the creation of sustainable employment opportunities.
The northern precinct of the industrial hub is home to a state-of-the-art agro-processing facility boasting the largest refrigeration system in the southern hemisphere. The strategic partnership between the government and multi-national company, In2Food, has resulted in the establishment of not only 600 jobs but also an additional 5 000 jobs along the value chain.
At the southern precinct of the industrial hub, SA INC visited Design@50, a flagship jewellery manufacturing facility, where young designers are upskilled through high-end technology and 3D printing which is revolutionising the jewellery industry.
Fueled by her optimism for, and belief in, South Africa's potential, GIDZ CEO, Seipati Mangadi, is, through this industrial hub, enabling sustainable economic development, touching the lives of many South Africans and placing the country firmly on the world stage.
SA INC S2 EP1 GIDZ 12minute
SA INC S2 EP1 GIDZ 4minute
SA INC EP1 GIDZ Seipati 1minute
By opening their factory in Atlantis, Hisense has not only created a successful business model but has also instilled the community with a renewed sense of hope.
The Hisense factory in Atlantis, Cape Town, has had a huge impact on the local community. Plagued by gang violence and high unemployment figures, made worse by many factories leaving the area, the community of Atlantis had dire prospects. However, when technology giant, Hisense, opened its manufacturing plant in the area, life in Atlantis improved vastly.
SA INC met Marlon Jacobs, a team leader in the refrigeration department, who says Hisense is one of the biggest companies in Atlantis and employs over 700 people from the area. By transferring skills from specialists in China to the local talent, employees have now been trained to become experts in their fields. Furthermore, by working together as partners and continually learning from each other, they are successfully bridging the cultural divide as well as taking a teamwork approach to problem-solving.
The manufacturing plant is so successful that it has the highest efficiency of all the Hisense plants outside of China. By opening its factory in Atlantis, Hisense has not only created a successful business model but has also instilled in the community of Atlantis a renewed sense of hope.
SA INC S2 EP10 Hisense 12minute
SA INC S2 EP10 Hisense Marlon 1minute
International snack company, Mondeléz, combats malnutrition and obesity and promotes healthy living through their educational and community upliftment projects.
Mondeléz, one of the world's largest snack companies and home of popular brands such as Cadbury, Stimorol and Chappies, have placed the promotion of healthy living high on its agenda. As an emerging country, South Africa is battling the paradox between malnutrition and obesity and a recent study has shown that it is, actually, the unhealthiest country in the world.
As a responsible snack company, Mondeléz is taking this very seriously and is actively working towards combating these statistics. In partnership with INMED Partnerships for Children, they are investing in educational programmes that teach children about nutrition, healthy lifestyles and responsible snacking.
SA INC met Unathi Sihlala, Programme Director of INMED, who says that, to date, their programmes have reached more than 140,00 children and about 2,000 educators. They have also seen an astonishing forty per cent decrease in obesity in learners. In addition to educational programmes, the partnership has also resulted in aquaculture and hydroponics projects which supply communities with healthy, organic food. True to their mantra of Snacking Made Right, Mondeléz is proud of being afforded the platform to make an impact on healthy living in South Africa.
SA INC S2 EP10 Mondelēz 12minute
SA INC S2 EP10 Mondelēz 5minute
SA INC S2 EP10 Mondelēz Nthabiseng 1minute
The Mercedes-Benz Learning Academy facilitates economic stability through skills development and job creation whilst elevating innovation and stringent production standards.
The Mercedes-Benz Learning Academy in East London is adding significant value to the region in terms of skills development, job creation and economic stability. Mercedes-Benz is renowned for quality and innovation and requires a highly-skilled workforce to maintain its stringent production standards. With unemployment rates in East London between 30% and 40%, the Learning Academy not only produces the calibre of artisan Mercedes-Benz requires but is also flooding the job market with exceedingly employable graduates.
The Learning Academy offers a shop floor skills programme for unemployed school leavers, five different apprenticeship programmes and incredibly advanced training technology. The plant itself employs about 3,000 people. It's an award-winning facility which produces approximately 100,000 vehicles per annum, both for the local and export markets.
Furthermore, with most of Mercedes-Benz's suppliers operating from the East London Industrial Development Zone, the Learning Academy is now adding unbelievable value in terms of what the region can offer to manufacturers. Through the learning academy, they are painting a global picture of excellence, not just for Mercedes-Benz but also for South Africa as a whole.
SA INC S2 EP 1 Mercedes-Benz 12minute
SA INC S2 EP 1 Mercedes-Benz 4minute
SA INC S2 EP1 Mercedes-Benz Lona 1minute 1
Road safety, community upliftment and skills development programmes enable Motus Corporation to positively impact the lives of millions of South Africans.
Road safety sits high on the agenda for Motus Corporation Limited, South Africa's leading automotive group. Motivated by the country's shocking road fatality statistics, Motus is actively working towards implementing sustainable programmes to invert the rising death toll. Through their entertaining school Road Safety Awareness Campaign, they are empowering children who, in turn, educate their parents and they have, to date, touched the lives of a staggering 1.4 million children.
Continuing the theme of community upliftment, Motus is also investing in a comprehensive literacy programme through the 35 library resource centres they have constructed, mostly in poverty-stricken areas. In addition to children learning to read, teachers can access electronic CAPS-related content to augment their lesson plans.
For Motus, skills development is not just undertaken at a school level. SA INC visited the Motus Training Academy where youngsters from disadvantaged communities, like Bronwyn Michaels from Blikkiesdorp in Delft, receive artisan training along with the skills to successfully enter the job market. Through road safety, community and skills development programmes, Motus is facilitating a legacy of success for millions of South Africans.
SA INC S2 EP3 Motus 12minute
SA INC S2 EP3 Motus 5minute
SA INC S2 EP3 Motus Tebogo 1minute
Through its community empowerment and training initiatives, Oceana is not only expanding its growth in the global fishing arena but also playing a significant role in society.
SA INC S2 EP7 Oceana 12minute
SA INC S2 EP7 Oceana 5minute
SA INC S2 EP7 Oceana Training 1minute
Plascon believes that through sustainable education-led initiatives, businesses can not only transform themselves but also South Africa as a whole.
SA INC S2 EP5 Plascon 12minute
SA INC S2 EP5 Plascon 5minute
SA INC S2 EP5 Plascon Boitumelo 1minute
Through the promotion of entrepreneurship, the SAB Foundation not only expands the South African economy but is also instrumental in the creation of thousands of jobs.
SA INC S2 EP8 SAB Foundation 12minute
SA INC S2 EP8 SAB Foundation 5minute
SA INC S2 EP8 SAB Foundation Nonhlanhla 1minute
Through Shell's nation-building programmes, they are empowering people from previously disadvantaged backgrounds and are actively contributing to the economy.
SA INC S2 EP4 Shell 12minute
SA INC S2 EP4 Shell 5minute
SA INC S2 EP4 Shell Hloniphizwe 1minute
Through the control of their own supply chain and manufacturing, TFG targets unemployment rates by providing retail-related education and employment opportunities on a large scale.
SA INC S2 EP2 TFG 12minute
SA INC S2 EP2 TFG 3minute
SA INC S2 EP2 TFG Anthony 1minute
Through the Tiger Brands Agriculture Aggregator model, they are enabling small-scale farmers to form part of their supply chain thereby transforming the local agricultural sector.
SA INC S2 EP8 Tiger Brands 12minute
SA INC S2 EP8 Tiger Brands 5minute
SA INC S2 EP8 Tiger Brands Morgen 1minute
Through corporate social investment in key areas, Total is active in youth education, environmental conservation, heritage, road safety and entrepreneurial development.
SA INC S2 EP7 Total 12minute
SA INC S2 EP7 Total 5minute
SA INC S2 EP7 Total Jaco Mol (Airwing) 1minute
The Volvo Iron Women heavy-duty truck driving school is providing education and employment opportunities that are uplifting women and their communities.
SA INC S2 EP3 Volvo 12minute
SA INC S2 EP3 Volvo 5minute
SA INC S2 EP3 Volvo Rhirandzu 1minute