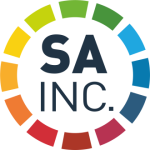 SA INC is about changing conversations – from the dinner table to the shebeen, from dusty street corners to gym cafeterias. It's about shaking off the doom and gloom of mainstream media and sharing the positive real news that doesn't reach the headlines. SA INC tells stories about South Africa's most progressive, innovative and switched-on organisations, that are placing people at the centre of their vision and have committed to the ethos of profit-with-purpose and the pursuit of inclusive, sustainable business growth. Be inspired as we share these stories throughout 2023 and into 2024, celebrating all that is good in South Africa.
The fourth season of SA INC is now being broadcast on a number of local, national and international TV networks. Follow us on Facebook for more information.
And check back regularly on this page for more inspiring stories as we celebrate all that is good in South Africa.
SA INC – We're not just telling stories, we're changing lives. 
Innovative Solar Technology Powering Skills and Jobs and Community Upliftment.
The scorching heat of the Northern Cape in South Africa has become the backdrop for a groundbreaking solar energy project that is transforming the region. With temperatures reaching extreme levels, the construction of solar plants has become a necessity. Among these remarkable projects is the Red Stone thermal power plant developed by ACWA Power and which harnesses the sun's rays in an ingenious way.
At the heart of the Red Stone plant lies a tower technology that utilizes a receiver located 250 meters above the ground. This receiver acts like a regular boiler but is unique in its positioning. Surrounding the tower's base are nearly a million square meters of mirrors that focus the sunlight onto the receiver. This concentrated energy raises the temperature of molten salt to a staggering 565 degrees, generating power that drives a steam turbine at the tower's base. This groundbreaking technology has positioned the plant as a landmark project, representing one of the most advanced renewable energy solutions available today.
Beyond its technological prowess, the Red Stone plant holds significant benefits for the local community. The Northern Cape is a vast province where job opportunities are scarce and the construction of the solar plant has brought much-needed employment to the region. Local individuals have found work in various roles from environmental officers ensuring proper site management to skilled labourers contributing to the project's construction. This influx of employment opportunities is a significant step toward the development of a green economy and offers hope for the future.
The Red Stone project has attracted expertise from around the world with professionals from China, Belgium, USA, UK and Israel collaborating to make the endeavour a success. This not only brings diverse perspectives but also aims to transfer knowledge and skills to the local workforce. The goal is to equip the communities with the expertise needed to maintain and operate the plant effectively, fostering their development and independence. With the capacity to power approximately 200,000 homes during peak hours, the plant's impact on the region's energy infrastructure is truly remarkable.
Beyond energy production, the Red Stone project also catalyzes community upliftment and social change. With the creation of job opportunities, it empowers individuals who support families and have a direct impact on the lives of others. The ripple effect of a single employment opportunity is profound, providing stability and hope for entire households. The project has particularly benefited young people and the unemployed, granting them access to meaningful work and a chance to build a better future.
ACWA Power, the major shareholder and developer of the Red Stone plant, has shown a steadfast commitment to the project. Supported by a consortium of 12 lenders, including the Central Energy Fund and Pellegrine, along with the Community Trust, the project has overcome numerous challenges. These dedicated investors have demonstrated unwavering support throughout the project's development, showcasing their belief in the transformative power of renewable energy.
The impact of the Red Stone plant goes beyond energy generation. ACWA Power and its partners actively engage in uplifting the local community in other ways. They have partnered with the University of Stellenbosch to introduce hydroponic farming to the region's farming communities. This innovative approach opens up new markets and income opportunities leading to improved economic conditions and a better quality of life. The project's leaders take pride in engaging with the community, understanding their needs and providing platforms for their success.
For all those involved in the Red Stone project, it represents more than just a construction endeavour. It is a journey that brings together cutting-edge technology, sustainable development and social progress. The project's lasting benefits, both in terms of job creation and community upliftment, exemplify the transformative power of renewable energy. As the plant continues to generate clean and reliable power, it stands as a symbol of hope, innovation and a brighter future for the Northern Cape and beyond.
SA INC - Season 4 - ACWA Power (11 minutes)
SA INC - Season 4 - ACWA Power (5 minutes)
SA INC - Season 4 - ACWA Power (Moshe) (1 minute)
Community Empowerment and Green Growth.
The Atlantis Special Economic Zone (ASEZ) is a designated area in South Africa with special rules and tax incentives to stimulate industrial manufacturing. Located in an area previously targeted for settlement under apartheid, it has large tracts of vacant industrial land that are already serviced making it an ideal location for the ASEZ.
 In recent years, there has been a growing interest in sustainable economies and the Atlantis Special Economic Zone has been designated as a green technology or green-tech economic zone. The goal is to manufacture components for wind towers, wind turbines and solar panels in South Africa, creating a dedicated area for sustainable manufacturing.
 One of the investors in the ASEZ is Dr Dean Pillay who built his acetylene plant to create jobs and add value to the economy. Acetylene is used in many industries, including welding and cutting and as a gas that goes into manufacturing solar panels. Dr Pillay's acetylene plant was commissioned in March 2022, providing jobs for three young people in the area.
 Dr Pillay's long-term goal is to have an oxygen plant next to his acetylene plant, as the two products feed from each other. He also sees a huge opportunity in owning the entire value chain of gas cylinders.
 Sustainable manufacturing cannot be achieved without involving and benefiting people. The ASEZ recognizes this and has programs in place to empower the local community, such as the Flame Program. Flame stands for Financial Literacy and Micro-Enterprise and targets small enterprises in Atlantis. Participants receive training in core business skills such as administration, accounting and taxes. The program also provides mentoring and coaching to help participants succeed.
 Melanie Andrews, a resident of Atlantis, benefited from the Flame Program and was able to manage her business, Cuddles & Care, more sustainably. Cuddles & Care is a childcare facility that has had over 200 children through its doors since it opened in 2012. Melanie's focus is on providing proper care and teaching to the children in her care.
 Despite her passion, Melanie struggled to obtain funding for her business due to non-compliance and a lack of financial records. The Flame Program helped her learn the skills she needed to run her business successfully. She learned about administration, accounting, costing, taxes and compliance. The program also provided mentoring and coaching, helping her with documentation and teaching her how to save. Thanks to the Flame Program, Melanie saw a profit for the first time in six months and was able to buy a new stove for her business with cash.
 The Atlantis Food Security program is another example of the ASEZ's efforts to empower the local community. The program targets small-scale farmers and provides them with the skills they need to run a farm as a business. Anastasia Smith is one of the successful participants in the program. She recently won a contract to supply a local retailer with fresh produce, providing her with a steady income and helping to address food insecurity in the area.
 The Atlantis Special Economic Zone is a great opportunity to turn existing infrastructure into something special. By focusing on sustainable manufacturing and community empowerment, the ASEZ is creating jobs and adding value to the local economy. Programs like the Flame Program and the Atlantis Food Security program are helping small businesses and farmers succeed, providing a path to a better future for the people of Atlantis.
SA INC - Season 4 - Atlantis SEZ (11 minutes)
SA INC - Season 4 - Atlantis SEZ (5 minutes)
SA INC - Season 4 - Atlantis SEZ (Pillay) (1 minute)
Growing local businesses and uplifting communities.
From its roots as a family-owned business to its African footprint with 110 stores and over 13,000 team members, Builders has always placed significant emphasis on being part of the society in which it operates and prides itself on growing local businesses and uplifting communities.
 The partnership between Builders and Beck Trading is a clear demonstration of this ethos. Beck Trading started in 1992 with a small factory producing personal protective clothing. Since joining the Builders value chain, however, the company has been able to expand its product range from 1 to 28 products and grow its workforce to roughly 1,800 people across two factories.
 This partnership has also provided job opportunities to the local community where unemployment rates are at 70%. One of the long-standing employees, Lilian Vesele, shares how the job has allowed her to support her family and build her own house.
 In addition to Beck Trading, Builders has also partnered with Zoko Building Supplies, a small company founded by Norma Ledford and her late husband. With Builders' open credit account and assistance in acquiring materials, Zoko Building Supplies has been able to take on bigger projects and grow its business. The partnership is not only beneficial for Builders but also for the local community, as it creates economic opportunities for their customers.
 Aside from uplifting local businesses, Builders has also made a positive impact through its partnership with Hope Worldwide, an international faith-based and non-governmental organisation that focuses on early childhood development centres. The NGO works in supporting preschools to comply with government norms and standards to be registered, access subsidies and become environments that are safe and conducive to learning. And it is through partnerships with corporates like Builders that this has been made possible with the provision of building, paint and plumbing supplies that have enabled these spaces to be transformed into a source of pride and inspiration for beneficiary communities.
 Across its supply chain and social investments, Builders has shown how a successful business can also have a positive impact on the local community by supporting local businesses and organisations. Their partnerships have not only benefitted the businesses themselves but also created job opportunities and economic growth in the community. Builders has become more than just a hardware retailer, they have become a partner in building better lives and better businesses.
SA INC - Season 4 - Builders (11 minutes)
SA INC - Season 4 - Builders (5 minutes)
SA INC - Season 4 - Builders (1 minute)
Improving the livelihoods of communities whilst preserving the integrity of nature.
A key focus of the Development Bank of Southern Africa (DBSA) is sustainable development and the preservation of natural ecosystems for future generations.
 The Umgeni catchment dams hold about 800 million cubic metres of water and the soil in this catchment holds about 1.6 billion cubic metres of water. It is clear to see the value of these natural ecosystems and how critical it is to water security. DBSA works closely with municipalities, government, the private sector, NGOs and academics to deliver infrastructure projects that incorporate gender, social and environmental aspects so that the projects can be sustainable and remain relevant. The DBSA aims to improve the livelihoods of the communities in those areas while preserving the integrity of nature.
 One such project, the Palmiet Ecological Infrastructure Project, involves biodiversity management and includes capacitating and employing people from informal settlements within or close to the catchment. Through the Enviro-Champ program, these participants went through a series of training exercises helping them to understand the natural environment, see the harm that's being done and how that influences them negatively and positively.
 Simoso Bhengu, a Senior Climate Change Scientist with eThekwini Municipality, explains how the industrial pollution, spillages and waste in rivers are putting extensive pressure on the infrastructure. The Umgeni catchment serves around 5 million people and Midmar Dam is significantly polluted by the water coming from a faulty sewer system in Mpophomeni, resulting in slightly diluted sewage that is coming down and entering the dam.
 Pearl Gola, the Ecological Infrastructure Coordinator at SANBI is part of the Umgeni Ecological Infrastructure Partnership to look after the Umgeni catchment from source to sea. The catchment is seen as a very integrated socio-ecological system. In between the sewage treatment works and the dam in Mpophomeni, there is a vast wetland. Because the wastewater treatment works in Mpophomeni were not working, the wetland itself was getting degraded. Therefore, the wastewater treatment works could not just be refurbished without working on the wetland too since it supplements the wastewater treatment works. If you rehabilitate a wetland, the biodiversity in that wetland will improve and the wetland will be functional.
 The function of the wetland is purification. For the actual rehabilitation, the community also needed to be engaged and the Enviro-Champs have been knocking on doors and teaching the community that we only have 1% fresh water, we don't have another earth and what is happening in society is affecting nature.
 When the natural infrastructure works properly, it also brings down the costs of funding.
 The DBSA believes that it is our duty to protect the natural environment for future generations, working towards a just transition and water security while improving the lives and livelihoods of the local communities.
SA INC - Season 4 - DBSA - Umgeni (11 minutes)
SA INC - Season 4 - DBSA - Umgeni (5 minutes)
SA INC - Season 4 - DBSA - Umgeni (Enviro-Champs) (1 minute)
Powering Young Scientists and Electrifying Communities.
The Eskom Expo for Young Scientists, a national science fair aimed at nurturing scientific curiosity among students, has been empowering young minds and electrifying communities for 42 years. With over 100,000 participants annually across 35 regions, the expo has become a platform for showcasing scientific innovation and fostering future leaders in the fields of science, technology, engineering and mathematics (STEM).
The journey for many young scientists and their passion for science begins at an early age. Inspired by a book on astronomy, one participant recounts how his interest in the universe grew, leading him to study both astronomy and physics. The Eskom Expo provided him with an opportunity to explore the realms of science and gain a comprehensive understanding of everything from subatomic particles to galaxies.
The Expo has evolved over the years, expanding its categories to include artificial intelligence engineering, novel energy solutions and environmental science. Projects now focus on the energy, water and food nexus, addressing pressing issues related to sustainability. Participants have developed innovative solutions such as creating AI algorithms to optimize garden watering systems and formulating natural herbicides to replace harmful chemicals.
The impact of the Eskom Expo extends beyond the fair itself. It instils a love for maths, science, innovation and learning in young minds, paving the way for their future success. By nurturing this potential from primary school through matriculation and higher education, the Expo sets students on a path to becoming the next generation of scientists and innovators.
The Expo also provides a platform for students to receive feedback and guidance from experts in various fields. The opportunity to interact with professionals and receive constructive criticism helps participants improve their projects and enhances their research skills. The knowledge and skills gained through the Expo have proven invaluable, aiding them in their university studies and future endeavours.
However, the challenge lies not only in igniting the creativity of South African youth but also in supporting them to develop their ideas into viable projects. The Eskom Expo aims to help participants commercialize their concepts, patent their innovations and turn them into tangible solutions for real-world problems. By leveraging science, technology and engineering, young innovators can contribute to tackling challenges like climate change and social injustice, fostering a more sustainable future for all.
Eskom's impact extends beyond scientific endeavours as the company has played a crucial role in electrifying communities. South Africa, once with only 34% electrification in 1991, has made tremendous progress, reaching 90% electrification with 6 million homes powered. This achievement makes South Africa the leading electrified country in Africa. Collaborating with the Department of Human Settlements, Eskom works to ensure that areas receive civil infrastructure before electrification, transforming informal settlements into formal areas.
The transformation brought about by electricity is evident in communities like Mfuleni. The availability of electricity has enabled residents to open small businesses, providing economic opportunities and improving livelihoods. Entrepreneurs, such as a vet food seller and a beauty salon owner, testify to the positive impact electricity has had on their businesses. It enables them to cook, warm up food and operate appliances critical to their trade. Electricity acts as an enabler and amplifier of opportunity, empowering households and individuals to pursue economic growth and improve their quality of life.
The Eskom Expo for Young Scientists and Eskom's electrification efforts demonstrate the power of science and electricity in transforming lives and communities. By nurturing young scientists and providing access to electricity, South Africa is fostering a generation of innovators while empowering communities to thrive in the modern world.
SA INC - Season 4 - Eskom (11 minutes)
SA INC - Season 4 - Eskom (5 minutes)
SA INC - Season 4 - Eskom (Hritik) (1 minute)
The importance of SMEs and the promotion of financial inclusion.
Global financial data company, Experian, believes that small and medium enterprises will be key to the recovery of the South African economy and has partnered with the National Small Business Chamber (NSBC) to create the 'How To Be Financially Fit' campaign, aimed at educating SMEs on improving their financial health and credit scores.
Zakhele Mgobhozi is the founder and group managing director of Modern Centric Holdings, a business dedicated to promoting the inclusion of marginalized communities in the South African economy, particularly the LGBTI community. As a business owner himself, Zakhele recognizes the importance of credit and partnering with institutions like Experian to improve his financial health.
Celeste le Roux is the founder of the React Group, a group of companies in the construction industry. She is passionate about promoting women's representation in the industry and recognizes the importance of a good credit score for accessing funding. React Group has been recognized by NSBC for their entrepreneurial efforts and has internalized the importance of financial health in building its business.
Experian understands that the only way we are going to change the future of South Africa is by getting people formally into the economy and it has built a long-standing relationship with the NGO, Rhiza Babuyile, to facilitate this objective by training youth to become entrepreneurs.
Morero Moloi is an entrepreneur who has benefitted from this engagement. Morero's mission is to create entrepreneurs through his company, McMore Muffins, by making franchising accessible to those who may not have had the opportunity before and providing all the tools and resources necessary to succeed.
To further this agenda, Experian has also been working to promote financial inclusion across the African continent through education and technology and has developed a free consumer app called UP which focuses on improving financial literacy and credit scores.
With the help of these partnerships and interventions, there is a growing recognition by entrepreneurs of the importance of financial health and credit scores in building and growing successful businesses. They also recognize the importance of playing their role in promoting financial inclusion and supporting marginalized communities in the South African economy. Through engagement with organizations like Experian and NSBC, they can access the resources and support necessary to succeed.
SA INC - Season 4 - Experian (11 minutes)
SA INC - Season 4 - Experian (5 minutes)
SA INC - Season 4 - Experian (Celeste) (1 minute)
Providing a supportive environment for beneficiaries to develop skills and become self-sufficient.
Fedgroup's Beneficiary Care program highlights the importance of people-centric engagement in managing the finances of vulnerable children. The program goes beyond just managing money to provide a supportive environment where beneficiaries can thrive and develop their skills.
When Melita's parents passed away, she was just 15 years old and had to step up to become both a sister and mother to her younger sister. The Fedgroup Beneficiary program helped her to manage the financial burdens that came with this responsibility. It removed the stress of paying for school fees, uniforms, transport and food, enabling her to focus on her education as well as being a supportive caregiver to her younger sister.
For many businesses, beneficiary funds are seen as an additional product that allows them to earn fees on assets. However, Fedgroup recognizes that these funds are much more than that. They offer a Beneficiary Care product which is designed to treat beneficiaries as children who have lost their parents, rather than just as investors.
The program follows a people-centric engagement approach. The beneficiary care team is made up of people who are parents and who were beneficiaries themselves. Calls can be taken in any of the official 11 languages and Fedgroup ensures that payments are made within 24 hours for urgent requests.
Kgoagelo Chauke is a Beneficiary Care administrator who was also a beneficiary of the fund. Having gone through the experience himself, he has valuable insight and empathy for the beneficiaries and their needs, fostering an environment of trust and support.
Fedgroup's commitment to people-centric engagement extends beyond just managing the finances of beneficiaries. They have also created opportunities for them to gain work experience and develop their skills. The Iteke Learnership program is one such initiative that is open only to beneficiaries who have lost a parent. The learners in the Iteke program are rotated through various departments over a year, completing a year-long qualification with 12 months of workplace experience. The program uses a holistic approach and is designed to provide a supportive environment where beneficiaries can thrive.
The success of this program can be seen in the number of beneficiaries who have been employed by Fedgroup. Approximately 10% of their current staff complement are ex-vulnerable children who were once beneficiaries of the program. This statistic is a testament to the effectiveness of Fedgroup's approach to people-centric engagement and the impact that it has had on the lives of beneficiaries.
By prioritizing the needs of beneficiaries and creating opportunities for them to develop their skills, Fedgroup has been able to make a meaningful impact in the lives of those they serve. Their approach highlights the importance of empathy, trust and support in managing beneficiary funds and ultimately helping beneficiaries to find employment and become self-sufficient.
SA INC - Season 4 - Fedroup (11 minutes)
SA INC - Season 4 - Fedgroup (5 minutes)
SA INC - Season 4 - Fedgroup (Melita) (1 minute)
Supporting small businesses and creating better futures.
Hollard has created a campaign that helps small businesses survive and create a better future for themselves. The campaign, called "Big Ads for Small Business", was launched to support small businesses that were the hardest hit by the COVID-19 pandemic. The campaign involved Hollard giving its ad spend and space away to small businesses to significantly boost the visibility and increase the revenue of these small businesses.
The campaign's success is evident in the stories of three small businesses: Ronewa Creations, Moja Chicken and Koni Wines.
Lesego and Dinah of Ronewa Creations had to face several challenges, including operating in a male-dominated industry and raising capital for the resources required. However, with the help of the campaign, Ronewa Creations grew tenfold, secured contracts they had previously been pursuing for years and had to hire more people and purchase more vehicles and equipment.
Letlogonolo (Tloks) Motseeng, the founder of Moja Chicken, had a difficult time during the pandemic and was sleeping in his car for three months. With the help of the campaign, Moja Chicken now has nine national franchises and Tloks is already busy with his next entrepreneurial venture.
Koni Maliehe, the owner of Koni Wines, was self-funded and had used all her savings to start the business. By the end of 2017, she had officially run out of money but she kept on going. With the campaign's help, Koni Wines now has a substantial local business selling wine online and export contracts that she could have only dreamed of which she attributes to the credibility of being associated with the Hollard brand.
The campaigns were executed simultaneously, starting with out-of-home, then TV, radio, community print, street ads, bus shelters and a whole social media content plan for each business. The objective was to ensure that every business grew in response to the exposure that they would get whilst concurrently amplifying the Hollard brand as a company committed to creating better futures.
In total, 12 small businesses out of the 300 businesses submitted were chosen for the campaign. The Hollard team went through a rigorous vetting process to ensure that the businesses would not topple over if they got millions of inquiries from being on TV. The campaign's success can be attributed to the careful selection of the businesses, the thorough vetting process and the coordinated execution of the campaign.
But the success of the campaign goes beyond the growth of the businesses. It also highlighted the resilience and ingenuity of small business owners and is a testament to the win-win impact that can be achieved through innovative solutions and system business strategy.
SA INC - Season 4 - Hollard (11 minutes)
SA INC - Season 4 - Hollard (5 minutes)
SA INC - Season 4 - Hollard (Ronewa) (1 minute)
Mobile technology and digital money are powering small business growth.
The proliferation of mobile technology and digital money is enabling the growth of small businesses in South Africa, particularly those with limited access to traditional credit. Ikhokha, a card payments business, recognizes the potential for mobile technology to provide a holistic ecosystem of tools to help small businesses grow and survive.
One significant challenge for SMEs in South Africa is the lack of a credit track record due to their cash-based turnover which limits their ability to access working capital from traditional players. Mastercard is a technology business that understands the importance of Fintechs like Ikhokha who play a vital role in expanding acceptance infrastructure and making financial services available to merchants. They understand specific categories for enablement and have thought through the process of bringing merchants on board and supporting them with ancillary services beyond card payment services.
The convergence of technologies, particularly the proliferation of mobile phones, makes it the form factor of choice for both consumers and merchants to operate on. Ikhokha's Tap-on-Phone app, which leverages the NFC capability of an Android smartphone, turns a customer's card into a card-present payment by tapping it on the merchant's smartphone. Merchants love the app because it's fast and easy to use, making it a win-win for both them and their clients. And being able to accept card payments increases turnover and facilitates growth for SMEs.
In this ecosystem, Mastercard plays a crucial role as an enabler by developing an understanding of how consumers can transact digitally, safely and securely without the burden of cash and with guarantees for both merchants and consumers.
Mastercard's partnership with Ikhokha has multiple facets to it, including working together to ensure that new technology like Tap-on-Phone is secure and works for merchants and cardholders. They also aim to leverage digital to reach grassroots-level entrepreneurs, drive education around new technology and promote acceptance with SMEs.
Ultimately, Ikhokha's purpose is to enable and empower business owners so they can employ more people, earn more money, increase their livelihoods and drive change in their communities. Mobile technology and digital money are powering small business growth and partnerships between Fintechs like Ikhokha and companies like Mastercard are vital for enabling this growth to continue.
SA INC - Season 4 - Mastercard (11 minutes)
SA INC - Season 4 - Mastercard (5 minutes)
SA INC - Season 4 - Mastercard (Yannick) (1 minute)
Promoting socioeconomic development and financial inclusion in townships.
Nedbank is a bank that is dedicated to promoting socioeconomic development and financial inclusion in townships. This is done through various initiatives that focus on growing thriving entrepreneurial businesses and providing easy access to banking services.
The 'Proud of My Town' initiative was launched to address the high unemployment rate in Mamelodi. The community leaders were engaged to develop solutions and it was decided to infuse the spirit of entrepreneurship through workshops that would create thriving businesses. The competition, Pitch and Hustle, was held and Onica's Optimal Balance mobile spa was declared the winner. Onica expresses her gratitude for the prize which gave her a vision of where she wants to go. And it would not have been possible without the support of Nedbank.
Ciko Thomas, the Group Managing Executive for Nedbank Retail and Business Banking, is also a child of the townships and recognizes that they are where the biggest chunk of the South African population lives and where a lot of money moves. Micro-industries are the primary creators of employment in townships and supporting entrepreneurial ventures makes sense in a country like South Africa where there are deep wells of unemployment.
Building the resilience of the township economy requires partnering with people on the ground for success. The Township Entrepreneurs Alliance (TEA) works with Nedbank to support township entrepreneurs. TEA has been able to directly impact over 60,000 township entrepreneurs nationally. The flagship township business workshops share information and provides business development support as well as networking and training entrepreneurs.
Bulelani Balabala, the founder of TEA, believes that learning how to pitch for sales is the lifeline of every business and whilst the prize for the winning pitch is a great incentive, the big win is that Nedbank localizes all procurement. Everything at the events, from content to catering, comes from the immediate community where the work is being done which exemplifies the kind of inclusive disruption needed from a big business.
However, between COVID and the riots and looting, township Entrepreneurs were impacted the most. So to take their engagement a step further, Nedbank set up an initiative to inject funds to rebuild these businesses and show their firm support to the affected communities, enabling businesses like Queens Salon and many others to pay salaries and purchase equipment to get themselves back on their feet.
Accessibility is a key part of financial inclusion and Nedbank spends a lot of time, effort and money providing the best service to communities. This has resulted in some of the bank's biggest and shiniest branches being established in townships with the best infrastructure and investment per square meter that can be found in any bank worldwide. Additionally, where it is not economically viable to have a dedicated branch presence, Nedbank partners with other companies, such as Cash Build and Boxer stores, to house a small micro Nedbank branch ensuring ease of use and access for all its customers. This extends to SASSA grants and ensures that the elderly have easy access to their funds instead of having to queue for hours.
In conclusion, Nedbank's deep engagement in uplifting the community speaks to a bank that embodies its purpose as money experts who do good. By focusing on driving socioeconomic development and financial inclusion, they are helping to create thriving entrepreneurial businesses and enabling convenience and easy access to banking services that will drive the engines of growth.
SA INC - Season 4 - Nedbank (11 minutes)
SA INC - Season 4 - Nedbank (5 minutes)
SA INC - Season 4 - Nedbank (Beke le beke TEA) (1 minute)
Innovative SOE powering healthcare, graduate development and small business growth.
Transnet, a state-owned transport and logistics company in South Africa, has been investing in programs that empower individuals and small businesses whilst also contributing to the growth of the healthcare sector.
 One such initiative is the engineering development program which funds students to study towards an engineering qualification and subsequently be absorbed into the Transnet ecosystem as engineers in training. This program not only covers tuition and accommodation but also aims to develop well-rounded engineers who can contribute to the larger community.
 Therese Quobela, a participant in the program, was inspired to work hard and pass her degree in record time. She is passionate about her work and was motivated to be in a historically male-dominated space. She advises current students to never lose sight of their dreams, work hard and prove themselves so that opportunities can come their way.
 Apart from the engineering development program, Transnet also runs the Phelophepa Train, a CSR initiative aimed at providing healthcare services to marginalized communities. The train does a nine-month journey across the country, providing healthcare services for two weeks in each community where it is stationed at. Phelophepa is also about teaching and provides final-year medical students with invaluable practical learning experiences. Almost 30 years on, Phelophepa has reached the 15-million patient mark, an impressive feat for an infrastructure company with no prior experience in healthcare.
 South Africa still faces significant challenges though in terms of inequality, poverty and unemployment. Small, medium and micro enterprises (SMMEs) account for 90% of businesses in the country and provide opportunities to marginalized communities. To support these businesses, Transnet has developed programs such as the Godisa Enterprise Development Fund (EDF) which provides financial assistance to suppliers within the Transnet system.
 VHN Engineering and Projects, a mechanical engineering company specializing in steel manufacturing, received funding from the Godisa EDF. This funding enabled them to pay their suppliers and to purchase machines needed to effectively service a large order they would have otherwise not been able to accept. This successful rollout of the contract enabled Company Director, Mthuthuzeli Zondi, to put their business on the map and he can now confidently advise small business owners to follow their dreams, put a plan in place and find the right supportive partners to help build a lasting legacy.
 Transnet understands that as a state-owned entity, it has a responsibility to develop skills, empower individuals and small businesses and contribute to society. Its innovative programs and initiatives demonstrate the company's commitment to making a positive impact in South Africa.
SA INC - Season 4 - Transnet (11 minutes)
SA INC - Season 4 - Transnet (5 minutes)
SA INC - Season 4 - Transnet (Therese) (1 minute)
Youth development and women empowerment are key to sustainable success.
Thabo Batshe always knew that he wanted to be a writer. In 2021, he landed an internship at WesBank and learned so much during his 18-month stay. He was then absorbed into the company and became a permanent employee as a Communication Assistant.
 Thabo has big goals for the future and wants to immerse himself in the organization. He loves learning and doing and with the many growth opportunities in the business, he plans to get on top of his game.
 Ghana Msibi, WesBank CEO, believes that youth development is key to creating a sustainable organization. He knows this from experience as he started in the leadership program and, without it, the likelihood of being able to gain access to the business would have been challenging.
 Ghana explains that what makes their company unique is that they don't take themselves seriously, but they do take what they do seriously. People feel safe there and feel empowered to be the best they can be. They have been awarded Top Employer five years in a row and it is an accolade that they're very proud of. So too of a new initiative, the Brotherhood Group, which is a platform for men to come and talk about serious issues without the fear of being judged and it is a significant example of the deliberate investment in all things culture and people.
 Mzwandile Maziwe started the Brotherhood because he lost some close friends and colleagues due to suicide. He believes that many broken men need support and to be in the right state to serve customers and society optimally. Mzwandile shares that being at WesBank is like being in a family and culture that encourages people to grow and that with this belief and support, you can operate at your unstoppable best.
 The Lotus Program is another flagship initiative and is specifically designed for women. The program helps to upskill previously disadvantaged women on their journey toward leadership.
 Kutlwano Mogatusi is a communications specialist at WesBank who has benefitted from the Lotus Program and appreciates the way it has shifted the organization away from male domination, allowing women to take seats around the boardroom table. She believes that what sets WesBank apart from other employers is that employees are not just a number. They're people with names and are valuable.
 Corporate South Africa needs to be deliberate with its intentions to level the playing field and, as such, development initiatives like these are essential.
They are important as they bring a message to the girl child that anything is possible and while there is still a lot to be done in South Africa, committed corporate engagement, as demonstrated by WesBank, is crucial to facilitating the progress and transformation we need.
SA INC - Season 4 - WesBank (11 minutes)
SA INC - Season 4 - WesBank (5 minutes)
SA INC - Season 4 - WesBank (Kutlwano) (1 minute)